Payment
We accept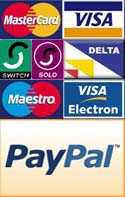 Official distributors for the following manufactuers / brand names:
Basket
0 items in basket
Total - £0.00
(excluding VAT & Delivery)

Security
Your online payment will be handled by SecureTrading, the leading independent internet payment processor in the UK.

Credit card details are entered on a secure page (https secure padlock). They are fully encrypted using the most sophisticated e-payment software and incorporate Verified by Visa & MasterCard SecureCode to ensure that your payment is secure.